Rainbow Refugees Support
Wir sind eine bunt gewürfelte Gruppe von Menschen mit diversen Hintergründen (im Hinblick auf Herkünfte, Sprachen und Orientierungen uvm.) und treffen uns aktuell alle 2 Wochen zu einem freien Austausch in den Räumen des Queeren Kulturhauses (LSKH). Dabei sind wir sehr offen und frei, wie der Abend gestaltet wird und freuen uns über Inputs, Anregungen und Kollaborationen. Der Raum ist offen für alle Menschen, welche sich für das Thema Migration und Queerness interessieren – unanbhängig vom eigenen Migrationstatus.
Bei Fragen zum Barabend könnt ihr euch gerne an mich (Sof) wenden: rrs_ffm@tutanota.com oder in unserem Instagram-Kanal vorbeischauen.
Englisch:
We are a diverse group of people with various backgrounds (in terms of origins, languages, orientations, and more) and currently meet every two weeks for an open exchange in the premises of the Queer Kulturhaus (LSKH). We are very open and flexible in how the evening is structured and welcome inputs, suggestions, and collaborations. The space is open to all people interested in the topics of migration and queerness, regardless of their own migration status.
If you have any questions about the bar evening, feel free to contact me (Sof) at rrs_ffm@tutanota.com or visit our Instagram channel.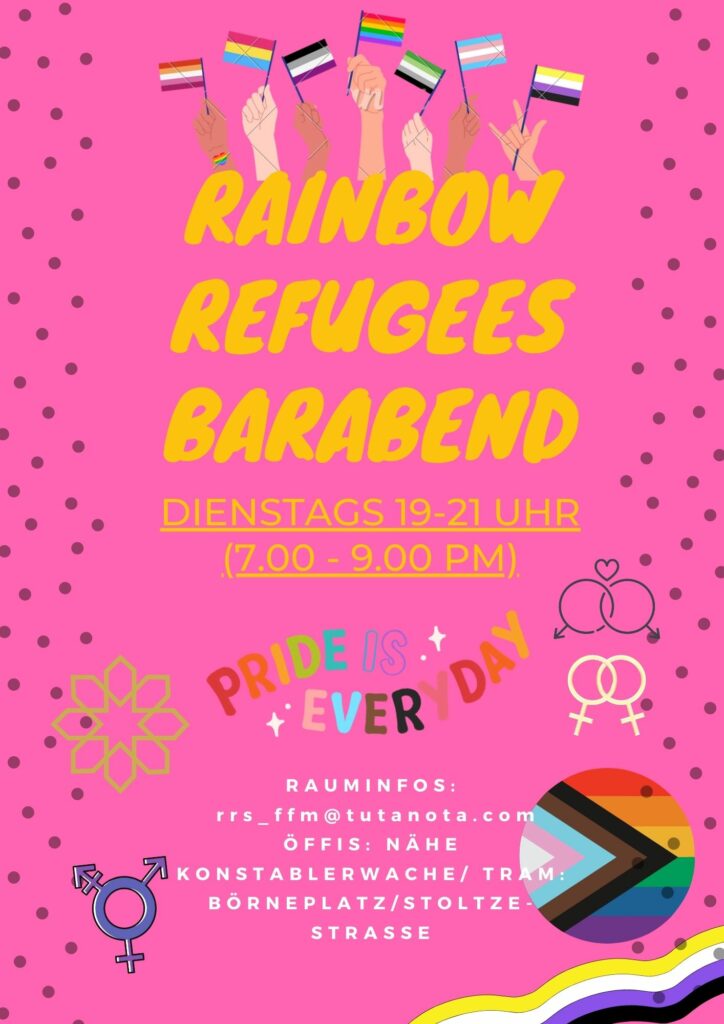 Wann & Wo?
Dienstags, alle zwei Wochen 19:00 – 21:00 Uhr
LSKH Queeres Kulturhaus
Erdgeschoss
Klingerstraße 6
60313 Frankfurt am Main